New and used forklift truck wholesaler
+33 (0)3 44 32 32 50
MasterMover MT1500+ -
reference 16579
Product sold
Industrial tractor MasterMover MT1500+
Features
Parc
Client
Reference
16579
Make
MasterMover
Model
MT1500+
Year
2015
Type of tyre
Railway tyre
Length
1400 mm
Width
600 mm
Weight
511 Kg
Overall height
1.5 m
Charger
Oui
Warrenty
Sold serviced
With updated periodic test
3-month parts guarantee

Battery
24V 179 Ah
EC conformity certificate
Oui
Condition
Product sold
By telephone
Contact request
To be contacted, please fill in this form :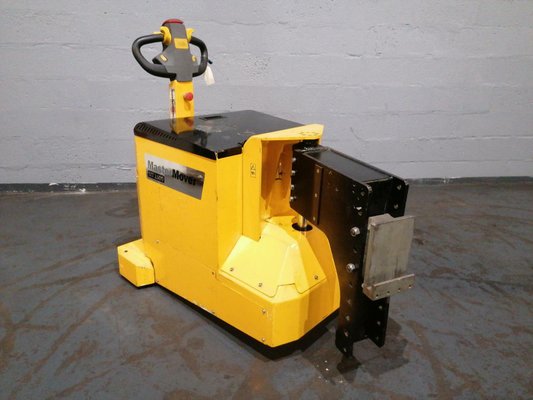 Product details
TRACTEUR POUSSEUR
Poussée / traction : 8142 N //15000KG

• Système d'indication de batterie
• Châssis en acier analysé par AEF
• Double timon sécurisé
• Moteur d'entraînement c.a.
• Garde-roue à réglage automatique
• Transfert de poids hydraulique

Commercial information
Le MasterTug MT1500+ est conçu pour permettre à un seul opérateur à pied de pousser, tirer et diriger
facilement des charges roulantes jusqu'à 15 000 kg. Le Tracteur pousseur électrique est équipé d'une
batterie sans entretien qui peut être modifiée pour devenir interchangeable, et d'un afficheur indiquant
la charge restante. Le châssis en acier du tracteur est analysé par AEF pour s'assurer qu'il n'y a pas de
zones de faiblesse et que les charges sont manœuvrables à 180°.